What's in our $1,500/$50 Website Package?
Glad you asked! Our $1,500/$50 website package is designed to get a small business up and running on the web quickly and without sacrificing any professionalism or personality! The cost is only $1,500 to build the site, and then $50 per month* to host, monitor and manage it.
What's included?
Everything you need to build your web presence, including: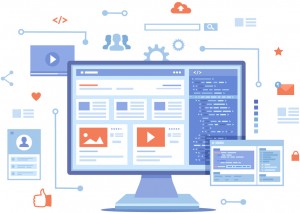 A custom website design to your specifications, optimized for desktop, tablet and mobile use — gorgeous on any device!
Implementation on the open-source SilverStripe CMS, which allows you to log-in and make content updates yourself, should you wish to do so.
Setup of up to 25 pages of content, to highlight services, staff, etc.
A contact form to capture leads and help convert visitors into customers.
All the benefits of our managed hosting plan, which includes domain name, a two-hour maintenance credit per month and personalized support from real, live humans fluent in your business needs and the English language.
So, what's not included?
Logo design or other branding services.
Complex/interactive graphics, video, or animations.
E-commerce/shopping cart.
Online marketing or advertisements.
Features not listed explicitly above.
We'd be happy to do any of those for you, of course. It'll just cost a bit more. Let us know what you want to do, and we'll be happy to give you a quote.
* Discounted pricing available to new hosting clients for one year. Commitment for the full year is required. See rates & fees for current pricing.